A TON of family members…chillin' in our kitchen.
We do this thing in our family called First Sunday Dinner.
It started when my grandmother- we called her Mudear- passed away. I couldn't have been more than 6 years old.
We'd go to my Granddad's house on the first Sunday of each month to keep him surrounded by the family. It's a tradition we've kept all this time.
Welp, here we are, the first Sunday of December and everyone's at our house.
And lemme tell ya, for an introvert like me…
Well, let's say I'm glad we've got a lot of ibuprofen in the cabinets.
But you know, I can't complain too much.
There are too many people out there who aren't this close to their family.
They don't get to hang out in the same house and get along like we do.
Plus, the babies in the family are cute as hell.
So the Christmas tree is lit up and the kids are runnin' around actin' crazy. And it's pretty much a blessing.
But the FOOD is my favorite part.
Since this is a major family event, there's always tons of food to go around.
But most of the family ain't vegan like me.
So I've always got to be ready to hook myself up.
*PLEASE NOTE: This post and other posts on my site may contain affiliate links. All this means is that I get a small compensation if you purchase from one of the links in my post… at NO extra cost to you! For details, please view my privacy & disclosure policies.
Half of a 16" Vegan Pizza from Homeslyce
This was actually from dinner last night.
The 'rents and I went out to dinner last night after getting the Christmas tree.
This is the place that I usually get delivery from.
It's not every day that you find a place with great vegan options that delivers.
THIS is the best vegan pizza I've ever eaten.
Like, I'm pissed off that it's gone.
I wish I had an unlimited supply that reappeared every time I finished a pizza so I could have it for lunch the next day.
But I guess that would defeat the purpose of buying vegan pizza.
So here are a few of my favorite things about this place:
The pizza sauce is bangin.'

They veganized some loaded cheesy fries for us.

Their food is never deep-fried, only baked

They offer gluten-free options

They have VEGAN PEPPERONI.
That last one is crucial for me.
I used to LOVE pepperoni pizza before I went vegan.
Couldn't hang with regular cheese pizza; it's too plain for me.
But pepperoni pizza is…well, PEPPY.
It's not so much the meat I missed; it was more about the spicy, zesty flavor.
Even other vegan pizzas tend to fall short because they only "meet the requirements".
You know, satisfactory, but not bombastic.
Well, this pizza is BOMBASTIC. FIRE. LIT.
It's STILL good the 2nd time around.
I ate it for brunch today.
Ate about half of it for dinner last night, so I had the other half this morning/afternoon. Popped it in the oven at 400 degrees for about 5 minutes.
I always get the pepperoni with 1 or 2 other vegetable toppings so it feels like I'm getting something healthy.
This time, it was portobello and kale.
You wouldn't think kale would be good on a pizza, but it is.
It gets this meaty, chewy texture when it's baked. Kind of like kale chips, but not as crunchy or thin.
So with the kale, vegan pepperoni, and mushroom slices, the pizza was super juicy and flavorful.
The crust was whole wheat, too, so I felt full without feeling heavy after eating it.
And I ate it ALL the way up!
I drink these things like water, to be honest.
In fact, I could live off of matcha and multivitamins for the rest of my life.
If you don't know what matcha is, it's green tea leaves ground up into a VERY fine powder. You dissolve it in water so you can drink the whole leaf.
Of course, I do vegan matcha lattes, which means I use plant milk in place of whole milk or creamer.
There are a few types of plant milk I've tried with this so far:
Almond milk

Coconut milk

Cashew milk

Soy milk

Flax Milk

Pea milk
Yes, you read that right, PEA milk. Milk made out of peas. I'll get into that in a minute.
As I said, I've tried using all these types of plant milk to make my lattes.
The 3 I prefer are almond milk, coconut milk, and flax milk.
The taste of the almond and coconut goes the best with the flavor of the matcha.
It's kind of like coffee in that it has a very distinct taste.
Take your average cup of green tea and imagine the taste doubled with a foamy, creamy texture.
That's what matcha tastes like. And you want whatever you put in it to compliment that taste without masking it.
Almond and coconut milk are the best for this.
But I've been liking having a little nutrient-kick in the morning before I eat anything solid.
To achieve this, I use the flax milk.
It's full of omega-3s and proteins that vegans don't get in their average diet.
Plus, it's got 30% of your daily calcium with 25% of your vitamin D and 25% of vitamin B12.
Makes taking your vitamins so much easier.
Check out my FIRST Blogmas post for more details about why you need these vitamins.
But yeah, this is why I count the lattes amongst the things I ate today. They're rich in nutrients and help me start my day right.
SO much healthier than the way the average American makes their coffee.
OH YEAH! Almost forgot about the pea milk.
I still have to do more research on this because I have NO idea how they make milk out of PEAS. Seems like they would become mush in a blender.
But you know what? I've got 2 bottles of the stuff in my fridge and it's got 32 mg of DHA omega-3s in every serving.
In case you ain't read my other blog post, DHAs are the ones that have direct benefits for your heart.
I mean, come on, I HAD to snatch some of it up.
But I've tried it a few times and the jury is still out on the taste.
Thinking about writing a review post later this week, so stay tuned for that.
Because my mom is the best mom on the face of the Earth.
When I went vegan, I was certain that I was going to have to make all my meals myself.
And I mean ALL them meals.
I'd never DREAM of asking anyone to make me a vegan meal from scratch.
But because my mom is the best mom on the face of the Earth, she surprised me with it.
She'd gone to the store today and found some beef-less ground at
Trader Joe's
.
Pretty sure it was store brand, so get thee to your local TJ's and check it out.
Must have been a good price, because I don't think she'd have bought it otherwise.
She made a whole pot of the stuff for us to sample from throughout the week.
I'm gonna say it one more time: MY mom is the BEST mom on the FACE OF THE EARTH.
Vegan Blueberry Muffin and a Cranberry Scone from Wholefoods
The Wholefoods bakery is a tad bit lacking in the vegan dessert department.
(Sorry, WF, but it's true. FIX IT, JESUS!)
Luckily, their vegan scones and muffins are so good, I couldn't give a sh*t.
I mean, SERIOUSLY, these things are a dessert in themselves.
Could be my vegan tastebuds, but I'm never disappointed with these.
Aaaannnndd I ate them so fast that I couldn't even take a picture of them to show you.
So here's a gif of a dog stealing muffins instead.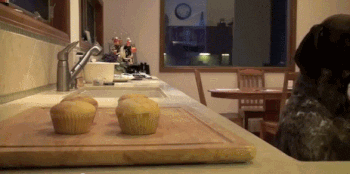 As busy as it was with so many family members in the home today, deep down I'm glad they were all here.
Family can be a lot sometimes, but when you get together, it can be pretty great.
And that's what today was: pretty damn great.
So I have a saying that I like to use when people ask me how I'm doing.
It goes a little something like this:
"I'm doing alright. I can't complain."
It's a little better than "Too blessed to
be stressed
" for me.
The phrase kind of implies that you should never be unhappy if you've got good things in your life.
I couldn't disagree more.
The good things your life become more clearer thanks to the shadows.
To me, it's about recognizing that things can't be good ALL the time, but when they're great, they are GREAT.
So remember that for this holiday season. Keep your spirits up, love your family, and gotdammit, enjoy the FOOD!
What do you enjoy most about the holiday season?
Do you like to be out and about or do you prefer chillin' by the fire?
Let me know in the comments below!
Or hit me up on social media and tell me how you spent YOUR first Sunday!