Oh, yeah… this is happening.
Hey, y'all. Welcome to the 5th post in Vegan Chick's Blogtober!
I have absolutely nothing helpful to say today, because I couldn't stop watching cat videos…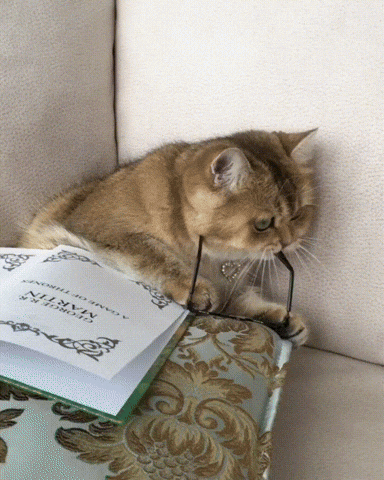 I know, crazy, right? A few days ago I was writing a post about procrastinating. And now I'm writing about a cat named Tigger who screams 'no' as he's getting a bath.
(Never seen it? It's totally a thing.)
Also, what I ate today consisted of 2 cups of matcha tea, a protein bar, 2 slices of sourdough toast with Myokos vegan cream cheese, and an ENTIRE BAG of fries.
I mean, I did share a few of them with a friend, but still…
Ok, I guess I need to give some context.
My older cousin got her first tattoo at 45 years old, so Dad and I came for moral support. Also because the lady who tatted my cousin did my first tatt, too.
Haha… "tatt, too", "tattoo"… I'm punny.
Anyway, she got her first tattoo, I got a gift certificate and a bag of french fries.
Win-win.
By the time I got back home, I'd finished the fries and started watching a cat video; and another, and another.
And now I know how people end up on the dark side of YouTube.
But on a more exciting note, I may be working with some brands pretty soon. Collabs, or affiliations, TBD.
Anyway…
How was your Monday?
. . . . . . . . . . . . . . .
List of International Suicide Hotlines (courtesy of the International Bipolar Foundation)– Please, please, PLEASE do NOT hesitate to find your hotline and call if you think you need it. You are NOT alone <3 .
. . . . . . . . . . . . . . .
Hey, Y'all!
If you liked this post, please show me some love by commenting your thoughts, sharing it, and following me on social media!
Please don't hesitate to say hi, especially if you're there from the blog.
If you'd like to receive regular updates from me when I post, please subscribe to my mailing at the bottom of the post!
Thanks for reading…
Happy Blogtober!